In his 5th edition book Brian Mulligan wrote: "This incredible apparatus [the ATM2] enhanced my ability to treat the lumbar spine. When indicated it is instantly beneficial and results are gained without pain."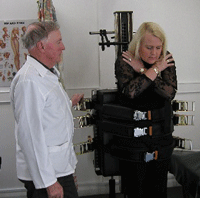 Brian Mulligan, Wellington, New Zealand Clinic
"I am using the ATM2 device in my rooms and am duly impressed. The ability with this apparatus to reposition the pelvis etc with the use of straps is ingenious and when appropriate it will enable pain free movement to be regained. It will certainly have a place in the management of back disorders as it offers a new and exciting dimension to the therapies currently available. Any device or technique that will, at the time of application, enable functional movements to be undertaken without pain has my full support. Two of the indications for my 'mobilisations with movement' techniques are no pain and immediate improvement in function and the ATM2 certainly meets these important criteria."