ATM2-Pro™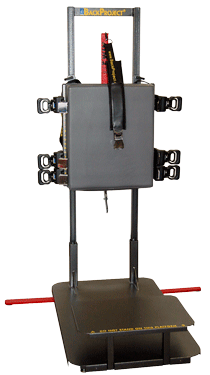 BackProject's ATM2 (Active Therapeutic Movement) family of products enable personalized body repositioning for finding a unique, pain-free position for each user. Once this position is found, the systems stabilize the patient allowing specific neuromuscular training based on body movement isolation that aims to achieve and sustain immediate pain reduction, increase range of motion, and improve function.
Advantages:
Provides immediate, consistent and long-lasting results
Free-Standing Unit
Mobile and can easily be repositioned within your clinc
Transportable (breaks down into 3 easily portable sub-units)
Most suitable for golf patients and performance enhancement clients

Manufacturer: BackProject Corporation
Dimensions: 6' 2" (high) x 3' 8" (deep) X 2' 4" (wide - excl. the ½" high, red outriggers)
Color: Silver Vein
Pain - Pain elimination during the session followed by 50%-100% pain relief for common Back, Neck, Shoulder, Pelvic, Hip, and Knee movement impairments
Performance - Immediate sports performance enhancement and substantial immediate increases in ROM
Scoliosis - decreased Cobb Angles (call for ATM2 specific research)
Osteoporosis - decreased risk of fractures
Posture & balance - immediate improvements
Date: 9/6/2017
Hi it's Drs. Picarelli & Falk from NJ.  We are sending your info to a friend in Indiana.  We have great results with our ATM2 in our office.
Mark Falk, DC & Pina Picarelli, DC
Date: 6/8/2011
As an avid gofer I'm always looking for ways to improve my game.  One key to game improvement is to maintain proper posture throughout your swing.  After just a few ATM2 sessions I noticed that my general posture improved.  That alone improved my swing.  I also found that my back was doing much better since my posture was improved along with my golf swing.
Gary D.   A patient of Dr. Mark Falk (Boro Chiropractic, West Paterson, NJ)
Date: May 3, 2017
Hello,
I am happy to hear from you! I hope you are fine!
Of course I use ATM2 and I am very glad with the outcomes my patients have.  We are doing really good work using it.
I am interestrf in attending, maybe the web courses, if I have the time, so if you can let me know about the dates of the courses, hours and the cost to see if I can make it.
Thank you very much, we will be in touch,
Haralabos Tiginagas, PT, Department Head
Agios Savas hospital, Athens, Greece
 
Date: 4/22/2017
Hello Steve, 
I did the ATM2 seminar online. It has been really helpful and to be honest I go to the ATM more than I do Decompression therapy or any other passive therapy.  I feel the active ligament stabilization compliments the adjustment quite nicely and the results are going very well.  Thanks for your help.
Thanks again,
Gabe Cole, DC
Date: 4/19/2017
Hi Steve,
I received the ATM2 early last week. The delivery was great. I will write and email you a review soon.
The ATM2 is beyond awesome, I had low back pain for the last 2 years (bad movement patterns, extremely tight hips) and this week I have no pain at all. Its incredible, I cannot thank you enough.
Thank you for your help,
Leo Garcia, MD
Date: 8/1/2016
I used the ATM2 over the past 3 days in my post surgical spine failure process, and the ATM2 is the 8th marvel of the world.
Luis Herrerias, DC
Date: 6/7/2016
Steve,
Just wanted you to have this for you to use if you wish for your promotional materials! It's so nice to feel like me again!
Cheers,
Kim
As a physical therapist I was frustrated with having low back pain for 3 years and mid back/ rib pain for about 8 months. I'd tried PT, exercise, chiropractic, acupuncture and massage but nothing allowed me to garden or clean the house without experiencing moderate to severe pain. I could tell that I wasn't moving normally but all the previously helpful treatments I'd ever used after any other musculoskeletal injury just weren't helping me.
I had heard about the ATM2 and found a clinic in Boise that had the device so scheduled visits when I knew I'd be there for consecutive days. After 2 visits for treatment of the mid back/rib pain I was completely pain free for 4-5 weeks!
I'm not big on gadgets and machines, but I immediately bought the ATM2 for my clinic. And of course, I was my first patient!  3 visits over 1 week of use completely restored my trunk rotation mobility and resolved my pain completely to this day.
I was so thrilled that I then tackled the more chronic low back pain.  9 treatments reduced my pain by at least 70% and a few more had me at 95% pain free. I can now garden AND clean in the same day without feeling crippled by pain. Sure, I'm stiff afterward, but what 50 something isn't!?
Kim Mazik, PT
Date: 6/25/2008
I use the ATM2 equipment every day, and it is some of the most fun I have in practice. I actually get surprised when it doesn't work on the lumbar spine.
Thanks!
Jason Smith, DC
Date: 6/3/2011
I have been using my two ATM2s for nearly 7 years. As a spinal specialist in manual physical therapy for 48 years in private practice,I have studied many spinal treatment concepts from all over the world, and can without hesitation attest that ATM2,is the only device that treats the spinal joints (lumbar and thoracic) in the upright natural functional position which has the effect of hastening the rehabilitation process. ATM2, allows the practitioner to be creative with technique application, and I have documented objectively, using precise computer goniometers, the immediate gains in spinal mobility as a direct result of its use. ATM2 continues to be an integral part of my spinal pain/dysfunction program.
John Bonica, PT CMP NZRP (New Zealand)
Date: 7/29/13
I just wanted to write and thank you for the ATM2. My own personal experience. I have been having a fairly consistent right hip/SI pain for the past six months. I will go and get adjusted and it helps for approximately 4-6 hours but it returns and some days when I am walking I begin to limp some but make it back home.
Last Thursday 7-18-13 I decided I would come to the office early and put myself on the ATM2 and did 10 flexion ROM exercises and was very amazed by about the fourth or fifth exercise my right hip pain was gone and when I completed the ten was the best my hip and low back has felt in months. It has been one week today and I have not done anymore personally on the ATM2 and my right hip pain is at least 75-80% better. I am coming in early to the office tomorrow and so I will treat myself again.
Thank you,
Dr. Timothy Swihart.
P.S. You may use this testimonial with anyone in helping them to purchase a wonderful additional weapon to put in their arsenal for helping patients to end the pain cycle.
Timothy Swihart, DC
Date:12/24/12
Just a case update on the acute low back pain patient I wrote about last week:
The patient was initially seen on Wednesday and then followed up on Friday. Before her first intervention on Wednesday her lumbar spine pain level was a 7/10. Following intervention her pain level was a 0/10. She no longer had pain upon flexion. The day of the treatment she had multiple business meetings and was in and out of her car all day long without pain. She noticed some soreness in the low back that evening but continued with no pain upon flexion.
By Friday she had no muscle guarding to palpatory pressure over the L4-5-S1 paraspinal region. She stated she felt some discomfort in the low back rated a 3/10, however there was no pain on flexion or other movements. On examination there was no muscle guarding to palpatory pressure over the L4-5-S1 paraspinal levels. Previous hypomobility in the left and right upper sacroiliac joint was normal. Palpatory intersegmental hypomobility was present at L2-3-4. Lumbar flexion was full range without pain as were the other ranges. Treatment consisted of flexion distraction mobilzation L3-4-5 in flexion followed by 12 ATMs' in lumbar flexion.
As the patient was being stablized in the ATM2 during the set-up phase she commented on how good the stabilizing pressure belts over the pelvic region felt. She preferred bilateral compression with the belts without bias to one side over the other. The subjective 3/10 level discomfort she had pre-intervention was now 0/10. That evening she had an office holiday party to attend which she did so in high heel shoes and was able to enjoy dancing without pain. The following morning she had a 6 am flight to catch to spend the holiday break in New York.
In summary after her first treatment on Wednesday she was pain-free going from a 7/10 to 0/10. My instructions to her were to do some walking during the day but nothing strenuous. I certainly did not encourage her to get in and out of a car that day nor to dance in high heel shoes the evening of her second treatment. Yet, this patient, who could not arise out of a chair without moderatley severe pain on Wednesday, was able to get in and out of her vehicle several times that afternoon to attend business meetings, then attend an office holiday party on Friday night dancing in high heels and then catch a flight to NY the next morning without difficulty.
Frank Lanzisera, DC
Date:12/19/12
I just wanted to let you know how pleased I am with the ATM2 device. As you might recall I have over 20 years experience using the MedX lumbar and cervical spine extension machines. These are terrific machines with a wealth of research behind their use from the University of Florida Center for Exercise Science and other universities around the country. I was in the first graduating class certified in the use of these machines. Two of these machines will cost a clinic $100,000 new.
In my short experience with the ATM2 I can say that it will do everything intervention wise that the MedX machines do at 16 times less the price. In fact when you consider that the ATM2 can work the shoulders, hips and knees you have much more clinical flexibility.
I have been very pleased with the results on the ATM2 such as a case I had today of a 50 year old female with acute lumbosacral spine pain of 3 days duration. Her pain occurred when she was bending over to lift a kitty litter box. The initial pain dropped her to the floor and had not changed much over 3 days. Her pain level was a 7/10 and using the Oswestry Pain Outcome Measure she exhibited a moderate degree of disability due to acute lumbar spine pain. Neurological examination was normal for DTRs, sensation and motor function in the lower extremities. There was muscle guarding to palpation over the L4-5-S1 paraspinal region bilateral. There was pain reproduction on all lumbar motions particularly in flexion. There was hypomobility in the upper left and right SI joints. The working diagnosis was acute lumbar facet syndrome L4-5-S1 with muscle spasm. Treatment was directed at mobilization of the SI joints to improve mobility. Following this treatment the patient noticed diminished pain but she continued to have pain on flexion.
She was stabilized in the ATM2 device and was able to achieve pain-free motion in flexion with two stabilizing belts applied during the set-up phase. Ten isometric flexion interventions were applied without pain. The patient was released from the ATM2 and her lumbar spine pain upon flexion was 100% gone. Her pain level was 0, and she could transition from sitting to standing without pain. Follow-up with the patient 7 hours later revealed she remained pain-free in flexion although she noticed some residual soreness in the area of complaint. She has opted to undergo 10 ATM2 sessions twice per week over the next 5 weeks to enhance her improvement.
In my opinion there are not many interventions that can reduce this degree of lumbar spine pain in such a short period of time that I have been able to witness during 30 years of clinical practice.
Frank Lanzisera, DC
Date: 7/8/2012

First of all congratulations with the new website .I know that It takes a lot of work.  We created also a new website www.mulliganconcept.nl
I still look back with a lot of enthusiasm to my visit to you.  I use the ATM2 more at the moment and train my employers to do also.
So we keep in touch and I keep you informed if we special successes with the ATM2, because it is still amazing what you can achieve with the ATM2 solo or in combination with Mulligan or other forms of therapy.
René Claassen, PT, Mulligan Concept Teacher
Sports + Orthopedic Leaders PT, in Oakland, CA, has been using the ATM2 for over 4 years in our clinic, and we continue to get consistent, great results. Our clinic uses this machine to help treat back, hip, shoulder, and cervical pain, along with our advanced manual therapy techniques, including Active Release. It is used as a tool for not only alleviating pain, but also to retrain the body's mechanics in order to produce lasting results, not just temporary relief. The ATM2 is also used for strengthening, and optimizing efficiency in movement for improved performance with daily activities, as well as elite level athletics. This machine has enhanced our clinic's ability to continue to provide above-average results by offering simple, pain free, and extremely effective exercises that can be done by athletes of all levels.
The ATM2 is also used as part of "A Stroke of Excellence: Golf Performance Training" program offered at Sports + Orthopedic Leaders.
Andy Clower, Head Athletic Trainer
We use the ATM 2 to increase range of motion, improve movement control, and decrease pain for a variety of problems. We use the ATM 2 to help improve problems with the neck, mid-back, low back, as well as shoulder and hip problems. Using the ATM 2 has helped improve the status of patients with a variety of diagnoses including degenerative disc disease in the neck or lower back, thoracic outlet syndrome, rotator cuff tendinitis, adhesive capsulitis (frozen shoulder), hip bursitis, and numerous other diagnoses. When pain and stiffness are no longer an issue we are using the ATM 2 for performance enhancement for activities requiring excellent core strength and control. The ATM 2 has had a significant impact on how we address the problems of a variety of patients in our physical therapy practice. We have always used a comprehensive approach to address challenging, painful, and function limiting problems that are decreasing the quality of life. The ATM 2 has proven to be an outstanding tool to facilitate pain free movements with improved strength and control. We are now using the ATM 2 with the majority of our patients as part of their physical rehabilitation program.
The ATM 2 concept emphasizes getting immediate results. We have seen these results with nearly every patient who has been trained on the system. It has not been uncommon to have lower back pain patients double their range of motion while producing less pain or no pain compared to their status immediately before using the ATM 2. Patients with painful shoulders have increased their ability to raise their arm overhead by 15° or more in one session. It is often surprising how much progress can be made with a pain free method of treatment.
We expect to apply the ATM concept successfully for physical rehabilitation and performance enhancement for many years to come.
Shawn Everson, DPT, OCS, MTC

Since I have used the ATM2 I have an extra tool to help people with acute and chronic spinal pain .As an accredit Mulligan Concept Teacher in Europe I know how important it is, if you mobilize a joint , to combine the passive reposition of the bones with active movements (mobilization with movements MWM). Beside repositioning the pelvis by using the ATM2 the ATM2 gives the therapist/practitioner also an extra possibility to stabilize the pelvis during isometric muscle contraction, which is unique and which you can't reach without using the ATM2 .
By using the ATM2 it's possible in many cases to restore or to get a big improvement of the spinal pain within a few minutes .Combine Repositioning and Stabilization with pain free movements will instantly lead to reset the abnormal painful activity/function of the joint ,muscles (probably the deep tonic muscles) and connective tissue in a normal activity/ function .It's clear that ATM2 belongs absolute to the present time ,because patients, assurance companies and the therapist or medical practitioner want to have immediate improvements and positive effect for all their treatments.
So for me and my patients benefit it's great to have this ATM2 in my private practice.
René Claassen PT MT MTC MCTA
The Netherlands