World Long Drive Golfing Champion, Gerry James, Hails ATM®2, a New Smart-Exercise System to Immediately Increase Range of Motion and Overall Fitness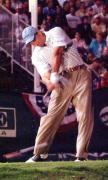 San Jose, California - August 31, 2007 - Two-time and current World Long Drive Golfing Champion, Gerry James, hails a new Smart-Exercise System, called the ATM®2, for immediately increasing his flexibility. After using the system in his home for four months and continuously seeing its immediate outcomes on himself and other PGA Professionals, as well as PGA Tour Professionals, Gerry continues to be amazed.
Gerry will be at the upcoming prestigious PGA Fall Golf Expo in Las Vegas, to demonstrate how he uses the new smart-exercise system to improve his flexibility, as well as his distance driving the golf ball.
When Gerry James first used the ATM®2, he experienced an immediate 25° increase in his rotational range of motion. His first response was: "wow... this will definitely increase my drive distance". Later he added: "For a person that trains six days a week and is at the peek of his performance, this is truly amazing. Can you imagine how this will affect non-professional players?"
BackProject's President and CEO, Steve Hoffman, explains: "The ATM®2 is a smart-exercise system that affects the way the brain controls the muscles rather than traditional 'brute-force' exercise and stretching systems. Within minutes the ATM®2 can optimize the way in which the brain controls muscle sequencing. With continued use, these results are long lasting."
Outcomes include an immediate increase in range of motion (flexibility), strength, agility, control and better posture. For golfers, this directly affects driving distance and ball control. Similarly, all other athletes will experience an immediate performance enhancement.
Meet World Long Drive Champion, Gerry James, in person, and experience your own increase in flexibility, whether you are the elite athlete or the weekend warrior. (Booth ETC 19).
For additional information on the ATM®2, contact BackProject Corporation at (408) 730-1111, or visit www.BackProject.com.
About BackProject® Corporation
Founded in 2001, BackProject designs, develops and manufactures innovative, smart-exercise systems and non-invasive pain management systems. All systems incorporate revolutionary approaches, and leading edge medical technologies to immediately address exercise fitness, performance enhancement and musculoskeletal disorders.